Every company can have a profitable path to net zero.
Learn how to save 8% of operating cost and add up to 20% in valuation by developing a robust net zero plan, online and at your own pace!
After four generations of explosive global trade growth, a growing awareness of climate change and other environmental externalities has triggered a global movement toward decarbonization, localization and re-shoring. ESG pressure from investors as well as carbon-related taxes, incentives and reporting requirements are driving operations and supply management to go green. However, lowering the carbon profile of global supply chains is a massive undertaking. This class teaches a proven sequence of management decision-making frameworks and optimization tools for eliminating carbon throughout the supply chain. The combination of academic constructs and real-life case studies is designed to equip you to successfully lead your company's decarbonization program. It will also prepares you to take the optional REVchain™ supply chain decarbonization certificate exam.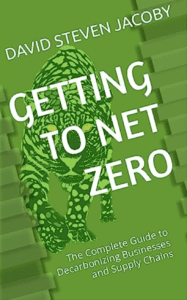 Get a free workbook when you purchase any class! (Click the book to the left)
Meet Your Instructors
David Steven Jacoby, Senior Fellow at Boston University, NYU professor
Ranjith Powell of the Public Investment Fund, Saudi Arabia, on governance
Alok Gupta of Boston Strategies International, on carbon footprint
Tensie Whelan, Clinical Professor for Business and Society at NYU's Stern School of Business, on net zero goals and targets
Bernard Arratieg of UltiWatt, on energy intensity
John Foote of REVchain LLC, on energy technology
Giles Taylor of Trans-Solutions, on transport
Tom Cook of Blue Tiger International, on logistics
Fritz Troller of Therm Solutions, on energy intensity, energy efficiency, and green building
Jacob Knowles of BR+A Consulting Engineers, on green building
Julia Salant of Ecovadis, on incentivizing suppliers
George DiRado of REVchain LLC, on modeling costs and benefits
Course 1 is free!
Get REVchain-certified and 20% off with the All-in-1 Bundle

All-in-one: 6 courses (30 lessons)
6 Courses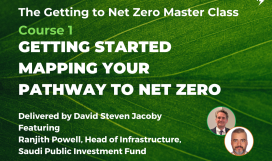 Course 1: Getting Started Mapping Your Pathway to Net Zero (FREE!)
$49.99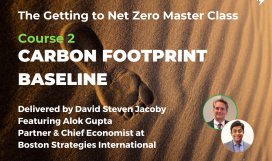 Course 2: Carbon Footprint Baseline
$199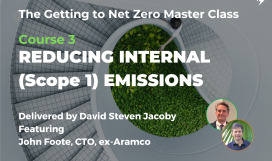 Course 3: Reducing Internal (Scope 1) Emissions
$299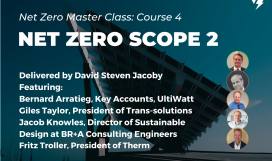 Course 4: Reducing External (Scope 2) Emissions
$299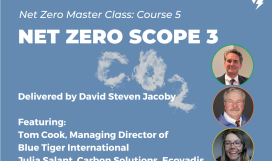 Course 5: Reducing End to End (Scope 3) Emissions
$299




Course 6: Developing Your Net Zero Plan
$399

5
5 (6)
$799
$489.94